Mark Nickita, FAIA and Dorian Moore, AIA lead Archive DS, a distinctly unique urban design, architectural, planning and development consulting practice. Archive DS travels the globe studying and documenting urban development for use in practice.
We are City Builders.
Archive DS [Design Studio] is an award-winning team of urban specialists focused on re-establishing post-industrial cities and urban sites, with a primary emphasis on the Lake Belt Region of North America. Through architecture, urban design, civic leadership, entrepreneurial activity, lecturing and global urban research, Archive DS has established a reputation as experts regarding the enhancement of the built environment and their various challenges.
The firm's partners also serve as a resource on urban issues, as civic and professional leaders for local and national media sources. Their professional experience has encompassed many aspects of city-making. These include major civic projects, adaptive reuse buildings, innovative mixed-use developments and historic renovations as well as the creation of design and economic strategies, urban visioning, and Placemaking, in addition to working as developers and the branding of projects and urban districts.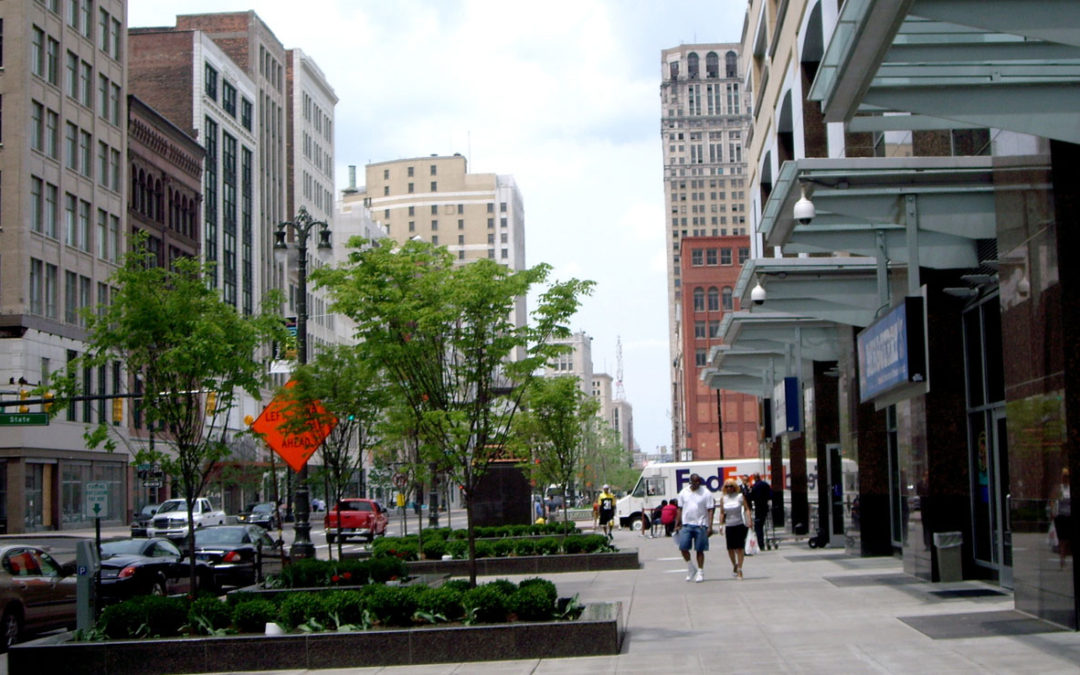 Alternative Approaches to the Working City This past week I had an opportunity to visit one of the most pleasant small towns in North America, Mackinac Island, where I participated in the annual conference for the Michigan Municipal League. Even though I have traveled...
read more
One of the things that we consistently stress is the need to travel and study varied urban conditions. We believe by studying these conditions that we can inform our projects and extend our experience and specialization beyond our own work. Being able to take an...
LATEST NEWS + ANNOUNCEMENTS + ACTIVITIES
Dorian Moore, AIA  interviewed for article on the future of failing shopping centers
Mark Nickita, elevated to the College of Fellows of the national American Institute of Architects 
Mark Nickita, FAIA awarded the Gold Medal from American Institute of Architects, Detroit
Mark Nickita, FAIA receives the Charles Blessing Award from American Institute of Architects, Detroit
Archive DS project, the Majestic Theater in Detroit, Restoration of the Woodward Avenue facade progresses 
Archive DS project, 220 Congress Street in Detroit, Redevelopment progresses 
Archive DS project, Baltimore Station in Detroit, Nears completion
Archive DS project, Marlborough Street residential renovation in Detroit, progresses
Mark Nickita FAIA, interviewed by Canada's Globe and Mail about public spaces enhancement
Archive DS partners do a Global Urban Study of Helsinki and Tallinn
Archive DS partners do a Global Urban Study of Portuguese cities
Archive DS partners do a Global Urban Study of the Basque Region, Bilboa and Bordeaux 
Archive DS partners do a Global Urban Study of Paris and London
Archive DS partners do a Global Urban Study of Shanghai and Hangzhou 
Archive DS partners do a Global Urban Study of the Ruhr Valley and the Netherlands
Archive DS partners do a Global Urban Study of Berlin, Leipzig and Dresden