Working with the IWB to identify Innovative Strategies for Cities
A couple of weeks ago, one of my Archive DS partners, Dorian Moore and I participated as studio advisors for a large multi-team charrette at the Institute Without Boundaries (IWB), located at Toronto's George Brown College. The IWD defines itself as follows – "The Institute Without Boundaries is a studio that works towards collaborative design action and seeks to achieve social, ecological and economic innovation". The IWD, has been around for about a decade and was spawned out of innovative big thinker and designer, Bruce Mau's "Massive Change" exhibition at the Art Gallery of Ontario. As the Institute has evolved, it takes on yearly projects to use as a topic of exploration for a new way of making healthier and more viable urban environments. Since the middle of 2012, the IWB has been working on an intercontinental, year-long study of two cities, Toronto and Dublin and the various ways that they function, for better or worse. This study is of great value in that urban areas are increasing in demand as every year passes. The world is urbanizing at a rapid pace and the global population is increasing to the point where by the year 2050, 75% of all humans on the planet will live in cities. In 2012, we passed the 50% point of the worlds population residing in cities. With this level of growth, many questions are arising on how we will best accommodate for the inhabitants of urban areas. At particular issue is the need for providing services while being efficient in both costs and resources. Additionally, innovation and technology will provide civic leaders with alternative solutions that will allow for revised methods of creating and accommodating places for people. However these political leaders and the general population will need to understand and accept new ways of doing things. There-in-lies the challenge that the IWB is grappling with – identifying and presenting change. The goal is to develop potential solutions for cities and to have them evolve out of a dialogue of multi-disciplines, where architecture, urban design, planning, political leadership, technology, innovation and logic all integrate to establish strategies and processes that may not currently exist. The IWB is all about tackling these challenges by bringing together people from different cities, cultures, countries and disciplines to open up a dialogue and lead a path to fresh answers to age-old questions.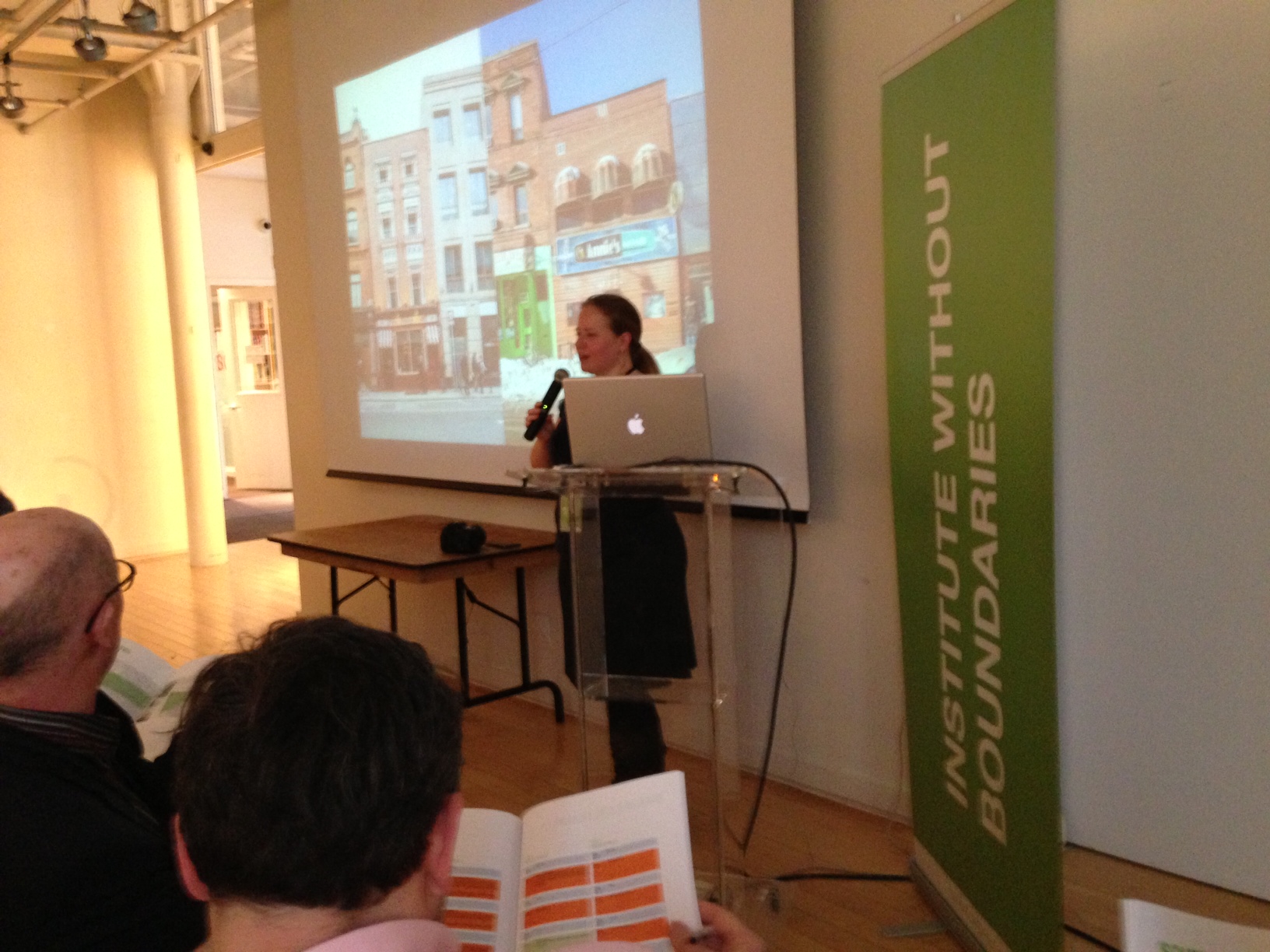 Institute Without Boundaries – Michelle Hotchin, IWB Program Coordinator, presenting to participants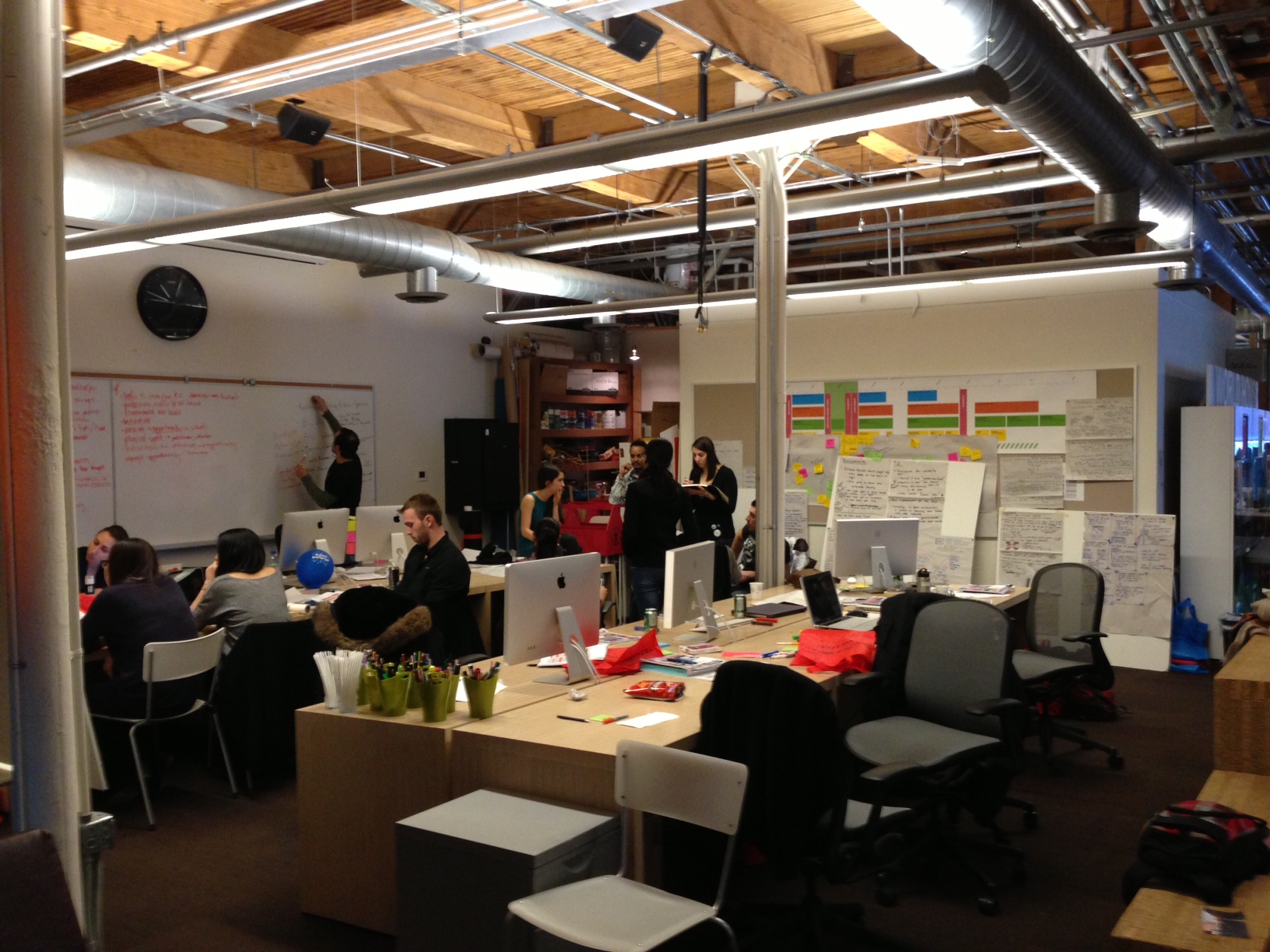 IWB Studio space located in a renovated warehouse structure in downtown Toronto – Team 13 working on the Charrette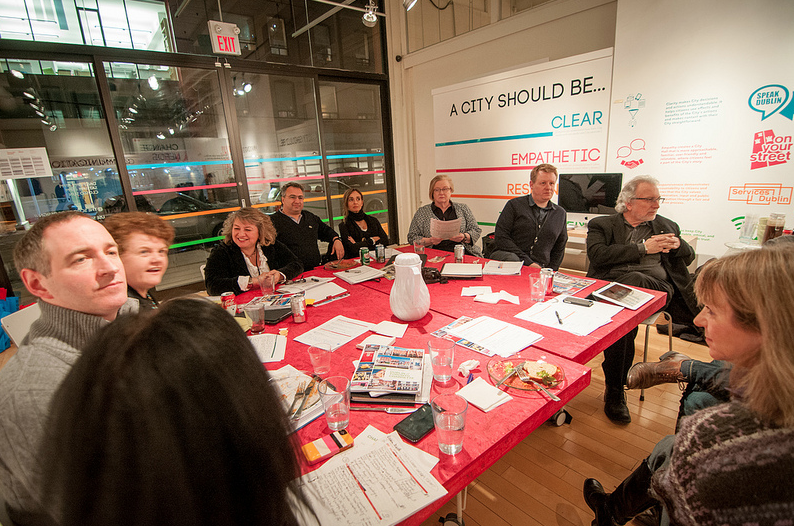 IWB Studio in TOronto – Team brainstorming at the Charrette
Rethinking Toronto's Parliament Street and Camden Street in Dublin
The Dublin/Toronto Charrette was just the latest in a list of studies and projects that focus on this very important exploration for the future of our cities. The 20 teams and over 250 people that participated in the project, came from Canada, Ireland, USA, Italy, Spain, Denmark and Italy with many disciplines, backgrounds and professional experiences. Here is the description of the Dublin/Toronto Charrette from the IWB website – "Working together in interdisciplinary, international teams, charrette participants will tackle the issue of public services and the changing environments in which they are delivered. Each team will be assigned case-study sites in both Toronto and Dublin and will design solutions with a focus on developing new and innovative new public services, spatial and interactive designs for the public realms of two urban "radials" through these different cities. The results will include complementary spatial and service design components and explore new paradigms for crowdsourcing service delivery in the 21st century city."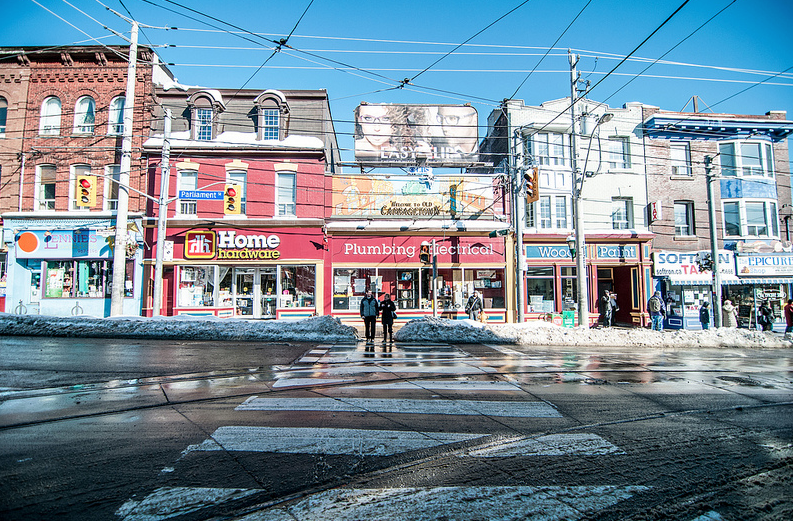 Cabbagetown District edge – south end along Parliament Street. courtesy of Michelle Hotchin
Cabbagetown District – view south on Parliament Street showing the Victorian housing behind the commercial structures. courtesy of Michelle Hotchin
Specifically, the study was oriented around two particular streets, Parliament Street in Toronto and Camden Street in Dublin. The focus was on the way that these two city streets and their incorporated districts function, including topics of economic development, energy, waste management, branding, and how they can be rethought for future success. Issues that were incorporated include efficiencies, cost, and better sustainable practices. Although urban planning, design and architecture were well integrated into most of the dialogue and thinking, the reality and need for implementation was a key component and guiding principle. For example Team 13, where I participated as a professional advisor, had a goal to establish a new way of looking at business development for the Cabbagetown district along Parliament Street in Toronto. The solutions involved many approaches including large scale planning ideas of integrating and connecting the surrounding neighborhoods of the city with the Cabbagetown district. This is needed since the perception and reality is that the Cabbagetown is segregated from adjacent areas. Other solutions would direct a change to the landscape and public spaces throughout the district as well as develop small-scale design interventions like the incorporation of seating, landscape and lighting with a goal of transforming the existing infrastructure. These ideas went hand-in-hand with the identified need to provide a cleaner and safer environment, where one is currently lacking and this condition hinders the opportunity for enhancement and growth. These solutions include change of policy and the mindset of leadership, both within the district as well as in City Hall. Other needs include marketing and branding opportunities that would help to change the perception of the district internally and to a greater audience. Team 13 ideas and solutions included the important aspect of a micro and macro view to problem solving. Specifically, this incorporated accepting the reality that challenges within the built environment evolve from multiple origins and that they are affected by small and large conditions at many levels. Therefore, solutions require not only this awareness, but the need to incorporate a multi-discipline and multi-level view to achieve the stated goal. Additionally, Team 13 incorporated the realization that process and procedural alterations would be required for ultimate success and that the city, the local business community and the residents, would need to work together to make the changes happen. With this, through the establishment of an open public dialogue and civic engagement, these new ideas and solutions could greatly enhance the Cabbagetown district and bring change and overall success to all involved.
The Institute Without Boundaries is proceeding down a path, with their multi-view approach, that directly relates to the way the world works today. No longer can one discipline and one group have all of the answers. Municipalities and our overall global condition are changing too rapidly and there are too many complications. Moving forward, affective solutions will require a multi-level perspective and expertise in order to provide answers for the challenges that will confront our cities. The IWD is focused on directing a way of working that will shape the built environment of the future.
Link to the Dublin/Toronto Team 13 Solution:
http://worldhouse.ca/dublin-toronto-charrette-results-team-13-make-your-mark/
Link to Institute Without Boundaries Website: http://Worldhouse.ca
___________________________________________________________________________
Mark Nickita, AIA, CNU, APA, BSArch, BArch, MArch is an architect, urbanist, retail entrepreneur, developer, educator and an elected municipal leader. He is the President of Archive DS, architects and urbanists in Detroit and Toronto and co-owner of retail establishments in Downtown Detroit, including the Pure Detroit Stores, the Rowland Cafe and Stella International Cafes. Mark is a City Commissioner and the former Mayor of Birmingham, Michigan.